The Apology of the Augsburg Confession was formulated by Philipp Melanchthon as the response to the Roman Confutation against the Augsburg Confession. Melanchthon was writing a defense of the original Confession, and a refutation of this Confutation that Emperor Charles V had commissioned.
The second edition, published in September 1531 in Latin is the edition that is most widely recoginzed as the best and includes changes to the original that were suggested by Martin Luther. The Book of Concord includes it as a Lutheran confessional document. It is seven times longer than the Augsburg Confession itself.
Contents
Edit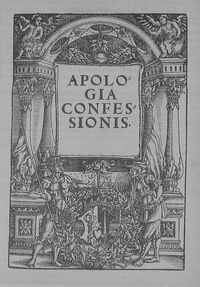 The major sections of the Apology are listed below, along with the article of the Augsburg Confession that Melanchthon is defending.
1. Concerning Original Sin -- Article II
2. Concerning Justification -- Article IV
3. Concerning Love and the Fulfilling of the Law
4. Concerning the Church -- Articles VII and VIII
5. Concerning Repentance -- Article XII
6. Concerning Confession and Satisfaction
7. Concerning the Number and Use of the Sacraments -- Article XIII
8. Concerning Human Traditions in the Church—Article XV
9. Concerning the Invocation of Saints -- Article XXI
10. Concerning Both Kinds in the Lord's Supper -- Article XXII
11. Concerning the Marriage of Priests -- Article XXIII
12. Concerning the Mass -- Article XXIV
13. Concerning Monastic Vows -- Article XXVII
14. Concerning Ecclesiastical Power—Article XXVIII
He also refers to some of the other articles in the Augsburg Confession which did not require an extensive defense. These articles are I, III, XVI, XVII, XVIII, XIX, XX.
Concordia Triglotta: Die symbolischen Bücher der evanglish-lutherischen Kirche. St. Louis: Concordia Publishing House, 1921.
External links
Edit