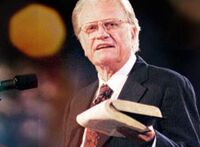 Billy Graham (born November 7, 1918) is an American Southern Baptist evangelist who has preached the message of Christianity around the world, reaching live audiences of over 200 million people in 185 countries. He has led hundreds of thousands of people to make personal decisions to "accept Jesus Christ into their lives," this being the main thrust of his ministry. Many of his sermons center on the topic "Jesus Christ is the only way of salvation." Sometimes referred to as "the Protestant Pope," Graham has often advised U.S. presidents and continues to be listed as one of the "Ten Most Admired Men in the World" in many polls.
External link
Edit
This article is a stub. You can help Christian Knowledgebase Wiki by

expanding it

.
Ad blocker interference detected!
Wikia is a free-to-use site that makes money from advertising. We have a modified experience for viewers using ad blockers

Wikia is not accessible if you've made further modifications. Remove the custom ad blocker rule(s) and the page will load as expected.