This article is a stub. You can help Christian Knowledgebase Wiki by

expanding it

.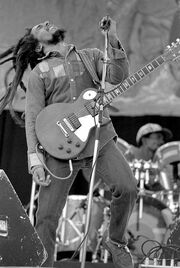 Robert Nesta Marley OM (February 6, 1945 - May 11, 1981) was a Jamaican singer-songwriter who became an icon for blending mostly reggae, ska, and rocksteady in his compositions.
Early Life
Edit
Marley was born at the farm of his maternal grandfather in Nine Mile, Saint Ann Parish, Colony of Jamaica (now in modern Jamaica), to Norval Sinclair Marley (1885-1955) and Cedella Booker (née Malcolm) (1926-2008) on February 6, 1945. His father, Norval Marley was white Jamaican of English descent, whose family claimed Syrian Jewish ancestry. Norval claimed to be a former captain in the Royal Marines. His mother, Cedella Booker was an Afro-Jamaican singer who married Norval at the age of 18.
As a toddler, Marley meet Neville Livingston, who would later be known as Bunny Wailer, and two became childhood friends. Marley attended Stepney Primary and Junior High School. Unfortunately, when Marley was 10 years old in 1955, his father died of a heart attack at age 70. After his father death, Marley's mother married American civil servant Edward Booker. His mother, with Booker, brought him two American half-brothers: Richard and Anthony.
TBA
Illness and Death
Edit
Marley was found to have Acral lentiginous melanoma (skin cancer) under the nail of a toe in July 1977. TBA
Although Marley was raised as a Roman Catholic, he was very insterested in the Rastafari movement, whose culture was a key element in reggae's development. He became a member of the movement for some years.
On November 4, 1980, archbishop Abuna Yesehaq baptised Marley into the Ethiopian Orthodox Tewahedo Church, calling him Berhane Selassie.