This article may reflect the views of certain denominations, but not others. Revision is necessary to reflect the views of all Christian denominations, as stated in our CPOV policy.
Please see discussion on the
talk page
.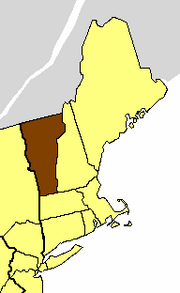 The Diocese of Vermont is the diocese of the Episcopal Church in the United States of America in the state of Vermont. It was the first diocese in the Episcopal Church to elect a woman, Mary Adelia McLeod, as diocesan bishop.
The see city is Burlington.
1. John Henry Hopkins, 1832-1868;
2. William H. A. Bissell, 1868-1893;
3. Arthur A. C. Hall, 1894-1929

William F. Weeks, coadjutor, 1913-1914;
George Y. Bliss, coadjutor, 1915-1924;
Samuel B. Booth, coadjutor, 1925-1929

4. Samuel B. Booth, 1929-1935;
5. Vedder Van Dyck, 1936-1960;
6. Harvey D. Butterfield, 1961-1973;
7. Robert S. Kerr, 1974-1986;

Daniel L. Swenson, coadjutor, 1986;

8. Daniel L. Swenson, 1987-1993;
9. Mary Adelia R McLeod, 1993-2001;
10. Thomas Clark Ely, 2001-
Diocesan churches of historical interest
Edit
Present or former diocesan churches listed on the National Register of Historic Places, include:
External links
Edit
Ad blocker interference detected!
Wikia is a free-to-use site that makes money from advertising. We have a modified experience for viewers using ad blockers

Wikia is not accessible if you've made further modifications. Remove the custom ad blocker rule(s) and the page will load as expected.