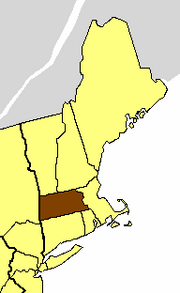 The Diocese of Western Massachusetts is the diocese of the Episcopal Church in the United States of America in the five western counties of Massachusetts. Formed from a division of the Diocese of Massachusetts, it was officially recognized at the organizing convention of November 10, 1901. At a special meeting on January 22, 1902, the Rev. Alexander Hamilton Vinton, D.D., Rector of All Saints Church in Worcester. was elected first diocesan bishop.
The first two Anglican parishes in what would become the diocese were started in Great Barrington in 1762 and Lanesborough in 1767 on the Housatonic River, at first served by priests from the Diocese of Connecticut.
There are 67 congregations in the diocese. The Episcopal see is in the city of Springfield. Since 1929, the cathedral has been Christ Church Cathedral, which was built in 1874.
External links
Edit
Ad blocker interference detected!
Wikia is a free-to-use site that makes money from advertising. We have a modified experience for viewers using ad blockers

Wikia is not accessible if you've made further modifications. Remove the custom ad blocker rule(s) and the page will load as expected.