This article may reflect the views of certain denominations, but not others. Revision is necessary to reflect the views of all Christian denominations, as stated in our CPOV policy.
Please see discussion on the
talk page
.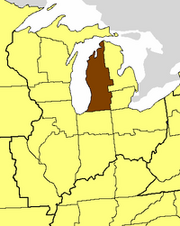 The Episcopal Diocese of Western Michigan is the Episcopal Church in the United States of America diocese in the western half of the Lower Peninsula of Michigan.
The diocese is headquartered in Kalamazoo. However, the 34-county area covered by the diocese stretches well northward of Kalamazoo to Petoskey and down to the Indiana border and from Lake Michigan to approximately the middle of the state. As of 2007 there are 60 parishes and 3 summer chapels in the diocese.
The eighth and current bishop is the Right Rev. Robert R. Gepert, elected bishop on October 19, 2001, and ordained bishop on April 27, 2002.
External links
Edit
This article is a stub. You can help Christian Knowledgebase Wiki by

expanding it

.