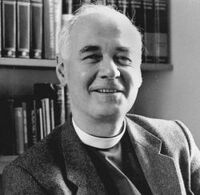 Rev Dr. John Polkinghorne is a distinguished physicist who has spent recent decades studying and writing about the relationship between science and faith. His physics career began at Cambridge where he studied under the legendary quantum pioneer P.A.M. Dirac and others, and he worked for 25 years in the field of theoretical elementary particle physics as a professor at Cambridge. He resigned his professorship in 1979 and became an Anglican priest, and since then has become a leading spokesman for the faith among serious scientists. He became a Fellow of the Royal Society in 1974, and was appointed KBE (Knight Commander of the order of the British Empire) in 1997.
External links
Edit
Ad blocker interference detected!
Wikia is a free-to-use site that makes money from advertising. We have a modified experience for viewers using ad blockers

Wikia is not accessible if you've made further modifications. Remove the custom ad blocker rule(s) and the page will load as expected.