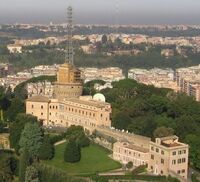 Vatican Radio (Italian Radio Vaticana) is the official broadcasting service of the Vatican.
Set up in 1931 by Guglielmo Marconi, today its programs are offered in 47 languages, and are sent out on shortwave (also Digital Radio Mondiale), medium wave, FM, satellite and the Internet. The Jesuit Order has been charged with the management of Vatican Radio since its inception. During World War II and the rise of Fascist Italy and Nazi Germany, Vatican Radio served as a source for news for the Allies as well as broadcasting pro-Allied (or simply neutral) propaganda. A week after Pope Pius XII ordered the programming, Vatican Radio broadcast to an unbelieving world that Poles and Jews were being rounded up and forced into ghettos.
Today, programming is produced by over two hundred journalists located in 61 different countries. Vatican Radio produces more than 42,000 hours of simultaneous broadcasting covering international news, religious celebrations, in-depth programs, and music. Current general director is Father Federico Lombardi, S.J.
External links
Edit
Ad blocker interference detected!
Wikia is a free-to-use site that makes money from advertising. We have a modified experience for viewers using ad blockers

Wikia is not accessible if you've made further modifications. Remove the custom ad blocker rule(s) and the page will load as expected.